Mrs. Potts Finds Thanksgiving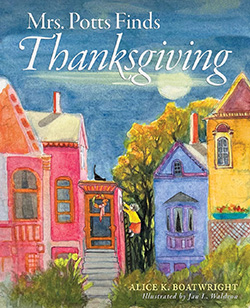 "A rebooted, briskly paced holiday parable that focuses on generosity and community connection."
—Kirkus Reviews
In this new holiday classic, inspired by Charles Dickens' A Christmas Carol, the miserly Martha Potts is reminded that there's more to life than work and money after chance encounters with a homeless woman and a stray cat, who comes to stay.
Between Thanksgiving eve and Thanksgiving Day, events unfold that lead her to rediscover the importance of connection and the true meaning of the holiday: giving and gratitude. A perfect holiday season gift. Best enjoyed when read aloud with family and friends!
Available in hardcover and paperback editions from Ingram and from Amazon in ebook, paperback and hardcover.