About Alice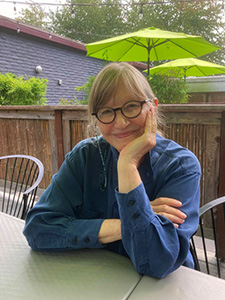 Alice K. Boatwright is the author of the Ellie Kent mysteries, which debuted with Under an English Heaven, winner of the 2016 Mystery and Mayhem Grand Prize. The series continued with What Child Is This? and the third book, In the Life Ever After, will be forthcoming in 2023.
She is also the author of award-winning literary fiction: Collateral Damage; Sea, Sky, Islands; and dozens of published short stories. In 2022, she launched her own imprint, Firefly Ink Books, with Mrs. Potts Finds Thanksgiving.
As a fiction writer, Alice's literary heroes, heroines, and influences range from J.D. Salinger, F. Scott Fitzgerald, Richard Brautigan, Raymond Carver, and William Gass to the Brontës, Willa Cather, Virginia Woolf, Elizabeth Strout, and Maggie O'Farrell. Throw in a pot, stir, and add Alice.
Alice sees her Ellie Kent mysteries as "traditional" mysteries inspired by the Golden Age writers, such as Dorothy L. Sayers, Ngaio Marsh, Margery Allingham, and Josephine Tey, but with contemporary influences, such as P.D. James. She also loves M.C. Beaton, because she always makes her laugh.
Alice has taught writing in settings from university campuses to a computer chip factory, and she has been a speaker at numerous writing and mystery-focused conferences. She enjoys meeting with book clubs and other informal groups interested in writing and books. She currently serves as the convenor of the North America Chapter of the UK's Crime Writers Association, and is a past president of the Puget Sound chapter of Sisters in Crime, as well as a member of the Pacific Northwest Writers Association, PEN America. and the Mystery Writers of America.
After a decade of living in England and France, where she wrote about public health for an international NGO, she now lives in the Seattle area with her husband, writer/photographer Jim Mullins, and their cats, Molly, Fred, and Poppy.
Bibliography
Mrs. Potts Finds Thanksgiving (Firefly Ink Books, 2022)
Sea, Sky, Islands: Three Stories (Noontime Books, 2019)
What Child Is This? Ellie Kent mystery book 2 (Cozy Cat Press, 2017)
Under an English Heaven: Ellie Kent mystery book 1 (Cozy Cat Press, 2014)
Collateral Damage (Standing Stone Books, 2012)
For links to published short stories, please visit https://alicekboatwright.com/short-stories/
To download high resolution images, click here.