The Ellie Kent Mysteries
"Not only is Alice Boatwright a good detective writer, but a first-class storyteller as well. A great find."
—M.C. Beaton
American Ellie Kent finds the first year of marriage can be a dangerous proposal when she moves with her new husband to his English village. With over 90,000 copies sold, this series has a strong following. The third book in the series, In the Life Ever After, will be published in 2023.
Available in paperback, ebook, and audiobook editions.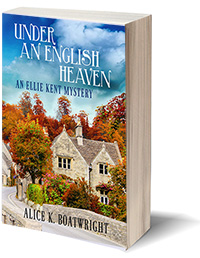 Under an English Heaven (Book 1)
In this first book of the series, life brings the skeptical Ellie Kent from her academic job in California to a village in the Cotswolds as the vicar's new wife; but death keeps her guessing how long she will be there. Available in paperback, ebook, and audiobook editions.
Winner of the 2016 Mystery and Mayhem Grand Prize for best mystery
A well-crafted outsider's view of Cotswolds village life that will appeal to mystery buffs. – Kirkus Review
–Kirkus Reviews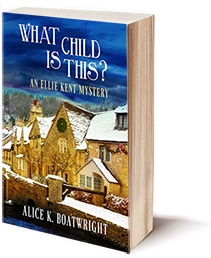 What Child Is This? (Book 2)
It's Christmas in Little Beecham . . . a season to celebrate with caroling, mistletoe, and mince pies. Ellie Kent is looking forward to her first English village Christmas, but a missing Oxford student and an abandoned baby soon draw her away from the fireside into danger. Available in paperback, ebook, and audiobook editions.
"Boatwright vividly conjures the warmth of the snowy, candlelit holiday through her descriptions of English Christmas rituals and community gatherings" – Publishers Weekly
In the Life Ever After (Book 3)
Ellie and Graham Kent finally take a honeymoon six months into their marriage, but their holiday mood is interrupted by the news that convicted murderer Corinna Matthews has been released from prison and returned home to Little Beecham. The locals are not welcoming, and Ellie's efforts to support Corinna are complicated by her increasing doubts about what really happened 15 years before when Corinna killed her brother, as well as by a disturbingly suspicious death in the present. To be published in 2023.