Short Stories
Story news! Two stories and a collection on the way
A new short-short story, "After the Rabbit Died", described as "how to fall in love in less than 500 words," appeared in Sleet's Spring/Summer issue in July. Alice's first crime story, "The Fog Man," will be published by Bull later this year. In addition, she has begun work on final editing, design, and production of her first story collection, Unaccompanied Bach, which will be published by Firefly Ink Books in February 2024.
On writing short stories. . .
Alice began writing stories as a child, and she has never stopped. She is the author of the story chapbook, Sea, Sky, Islands (Noontime Books, 2019), as well as dozens of short stories published in literary journals and anthologies. She was a finalist for the Flannery O'Connor Award for Short Fiction and the Glimmer Train Fiction Prize and has been awarded residencies at Cummington Community of the Arts, the Djerassi Resident Artists Program, and Hedgebrook, as well as grants from UC Berkeley and the New Hampshire State Council on the Arts to devote time to writing fiction.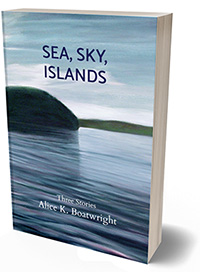 Sea, Sky, Islands celebrates the beauty of the San Juan Islands
In 2019, Alice published a chapbook of three stories set in Washington's beautiful San Juan Islands, collaborating with a former UC Berkeley colleague and friend, artist Marsha Karr. The book was published by Noontime Books and is available in paperback and e-book editions.
"These stories make a perfect triptych – each with its note of hard-earned, open-eyed hope. They created a world and cast a spell that stayed with me. A beautiful book."
—Kathryn Chetkovich, author of Friendly Fire
Available in paperback and ebook editions
Published stories
"The Fog Man," Bull, forthcoming 2023
"After the Rabbit Died": Sleet, Vol 15, No 1, Spring/Summer 2023
"Look Both Ways": Amarillo Bay, Issue 23:1, April 29, 2021
"Yesterday's Muse": Bull, November 19, 2020
"Mr. Who Passes Through": Crime Readers Association, Halloween 2020
"No Prince": The Blood Pudding, September 2020
"Risky Business": fresh.ink, July 14, 2020
"J'arrive": Calyx, Vol. 31, No. 1, (Winter/Spring 2019)
"The Purple Bowl": Parentheses Journal, Issue No. 5 (January 2019)
"Life Sentences": Amarillo Bay, Vol. 20, No. 2 (October 2018)
"What Comes to Hand Must Be Faced": Open Journal of Arts and Letters, 2017
"After Giselle": Amarillo Bay, Vol. 17, No. 4 (November 2015)
"The First Meeting of Babyman and Mother": Sleetmagazine, Vol. 6, No. 1 (Spring 2014)
"And the Part of Me Will Be Played by Marilyn Monroe": Amarillo Bay, Vol. 14, No. 1 (February 2012)
"Asta at the Market": Marco Polo Arts, 9 January 2012
"A Burning House": Stone Canoe, No. 5, January 2011
"Risky Business": Upstairs at Duroc, No. 11, January 2010
"Dreams of a Runner": Stone Canoe, No. 3, January 2009
"Night Washing": Storyglossia, No. 32, 4 December 2008
"Chrissy on Earth": Amarillo Bay, Vol. 10, No. 4 (November 2008)
"Behavior Modification": Amarillo Bay, Vol. 9, No. 4 (November 2007)
"Survivors": Mississippi Review Online, Vol. 13, No. 4 (Fall 2007)
"Divas": America West, Vol. 18, No. 4, June 2003
"Reading Raymond Carver": Enterzone, Episode 14, November 1998
"Man Leaving" (illustrated by the author): Enterzone, Episode 14, November 1998
"What I Have": Paterson Literary Review, Issue No. 26, March 1997
"Divas": Beloit Fiction Journal, Vol. IX, Issues No. 1 and 2 (Spring 1994)
"Golden Chances": in Breaking Up Is Hard to Do, edited by Amber Coverdale Sumrall, (Crossing Press, 1994)
"Sheila Martin's Last Egg": San Jose Studies, Vol. XIX, No. 2 (Spring 1993)
"Conflicting Testimony": in Love's Shadow, edited by Amber Coverdale Sumrall (Crossing Press, 1993)
"Jonas": Cricket, Vol. 19, No. 6, February 1992