NEWS & EVENTS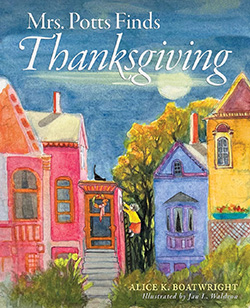 Kick off your Thanksgiving week with Mrs. Potts Finds Thanksgiving
You're invited! This Thanksgiving, you, your family, and friends will be able to start the holiday with Hugger, Mrs. Potts, and me on Monday, November 20th, at 5 p.m. That's when I'll be reading Mrs. Potts Finds Thanksgiving in The Den at Third Place Books in Lake Forest Park, WA. This story hour for ages 8 to 108 will include time for questions and comments, as well as refreshments. Hard cover and paperback copies will be available for sale, so you can make Mrs. Potts part of your annual celebration at home — or give a copy to a friend! This event is free and open to the public.
Don't miss this first chance to hear the author (me, that is) read aloud the book Kirkus Reviews calls "a rebooted, briskly paced holiday parable that focuses on generosity and community connection."
Zoom with me!
Since the Zoom era began, Alice has participated in events from California to Connecticut, as well as in England, France, India, and Pakistan. It's an any time, anywhere world now, so if your book club or other group would like to chat with her about her books, reading, or writing, please feel free to contact her at alicekboatwright@gmail.com.
Recent/forthcoming events
October 2: In conversation with Heather Redmond, author of the Dickens of a Crime series, at the University of Washington Bookstore, Seattle, WA. (Free and open to the public)
October 7: Moderating a panel on Mystery Subgenres with Curt Colbert, Glen Erik Hamilton, Charlotte Stuart, and Marty Wingate at the Write on the Sound Conference, Edmonds, WA (Registered delegates only.)
November 20: "Storytime" for all ages! At 5 p.m., I will be reading Mrs. Potts Finds Thanksgiving in The Den at Third Place Books, Lake Forest Park, WA. Free and open to all.
Interested in having Alice Zoom to your book club or writers' group?
For Zoom (or Skype, or Facetime) author visits, contact alicekboatwright@gmail.com